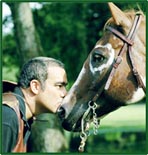 André West
André came to the AiFL with more than 20 years of experience in the Fashion industry. Before
moving to the U.S.A. in 1984, he completed a Bachelor of Science degree in Textile Design and Technology at the University of Huddersfield Yorkshire, England. He continued his Studies in Fashion and Patternmaking at St. Martins School of Art in London. His first employment was with a Fashion Forecasting consultant named Dyrek Healey International in London, England. With this company, Andre' was able to travel and visit many of the major fashion shows and trade events in Europe. He was involved in the predictions of trends for companies such as Monsanto, Ford, ICI and DuPont. This led to being a design consultant for the clothing manufacturing industry for the British Government.
Upon coming to America, André worked as a designer for Hampshire Designers, the largest manufacture of knitted goods in the United States. He was hired to open a new manufacturing complex in North Carolina for Sweaters U.S.A. This company primarily manufactured for large retail concerns such as Wal-Mart and JC Penny's. The creation of his own business, designing and manufacturing retail clothing, in his own stores in South Florida followed.
He joined AiFL three years ago as an instructor teaching a multitude of subjects, his specialty is in Computer Art Design (CAD) and Product Development. Recently he was appointed Program Chair of the Fashion Department. His goal for the Department is to be on the forefront of teaching technology, with the latest equipment and software, used in the fashion industry, always making sure there is a place for the most creative sole, as well as expanding the Department's involvement within the local community.
His outside interests include, but are not limited to Art. He is in the process of completing his Masters Degree in Visual Arts and will be having a major exhibition in November at the Mark Wheeler Gallery. He has been coaching High School soccer, this includes traveling with the soccer teams in South Florida.
André has a fully registered American Paint horse named Rooster. He is in the process of training to ride bareback as the American Indian tradition. He lives in Davie with his wife Diana, an Alumna of the school in Photography, along with his two sons Grant and Brenan.