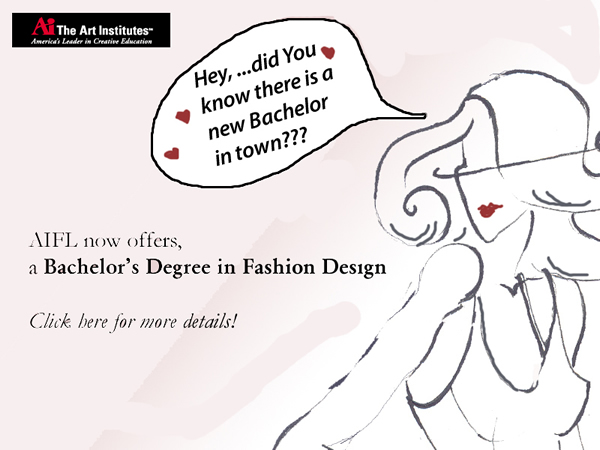 THERE'S A NEW "BACHELOR" IN TOWN!
The Art Institute of Fort Lauderdale Announces New Fashionable Degree

Creative temperatures are enthusiastically rising as a new degree is added to The Art Institute of Fort Lauderdale's educational opportunities. Beginning fall quarter, which starts October 4th, fashion design students will be able to expand their horizons and take their creative designing skills to another level in the Bachelor of Science in Fashion Design degree program.

The new curriculum focuses on design and creativity; technical, research, marketing, business and critical thinking; and professional/career paths in the areas of menswear tailoring, technical design, textile design, costume design, design technology, and fashion entrepreneurship.

"What makes this program different from others is that the curriculum is being driven by the fashion industry – a very professional approach," says R. Layton Massengill, Fashion Design Program Chair. "A 12-member advisory board made up of industry leaders assist us by periodically reviewing the program to assure that our students are prepared for the real work world. Our students graduate with the technical skills, discipline and self-confidence needed to be successful in their field."

For more information about the new Bachelor of Science degree in Fashion Design, please contact 1-800-275-7603, ext 2122.