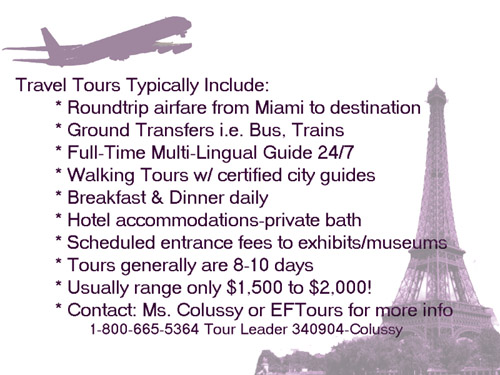 Our Tour Company is EF Tours -- in the business of arranging student trips for 40 years!
What is typically included?
Airfare from group point of origin ex: Miami to scheduled destination
All scheduled ground transportation including airport transfers
City Walking Tours by local certified guides
Scheduled exhibits and museum entrance fees
Breakfast and dinner daily
Hotel w/private bath (student and adult rooming)
Full time multi lingual guide with us 24/7
Facts and Stats:
Typical Price Range for students under 25 -- $1,500 to 2,000 US dollars
Payment schedule is usually $95 Registration fee, then in three-month increments payments of $500, $500 and balance.
Note: all payments must be made 99 days prior to departure.
Optional insurances, and optional excursions, tips and personal spending money not included in fees.