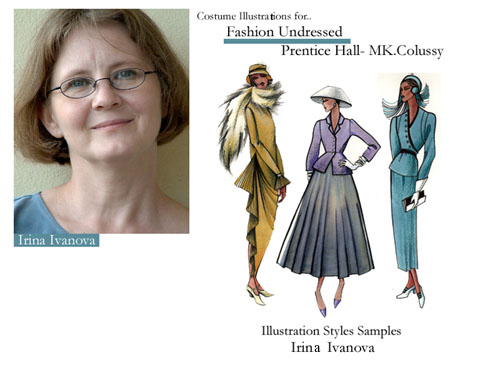 Meet: IRINA IVANOVA
Meet Fashion Design faculty IRINA IVANOVA, she possesses very special style in visual art. Creative fusion of different cultures, traditions, mediums and techniques is a professional "trademark" of her artistic style. Superior mastery in exotic techniques of oriental drawing using ink and wooden stick, silk painting skills, as well as traditional watercolor and oil painting makes each new artwork by her a sort of discovery.
Expert knowledge of costume as well as profound mastery in fashion illustration often gives the inspiration to the artist. Years of artistic experimentation and numerous accomplishments in textile and fashion design reflect in the visual style of Irina's artwork
Irina Ivanova is a multi-faceted fasion/industrial/textile designer and educator at the Art Institute of Fort Lauderdale whose images of her Russian roots are colorfully evident and woven into her artistic creations. Her recent art show was held at the Mark Wheeler Gallery in Fort Lauderdale the show was a culmination of results of 10+ years of artwork. Works showcased were oil on canvas, silk painting, experimental medium such as ink-jet print on canvas in combination with oil painting , digital print on paper with combination with ink painting, traditional ink on paper technique and digital print. All those different mediums were engaged in the process of development of collection of artwork that were presented in the art show.
Currently Irina works on project, for which she creates a set Illustration of historical costume for publication of book FASHION UNDRESSED by fellow AIFL fashion design faculty and author M. Kathleen Colussy. Here is what Ms. Colussy has to say about Ivanoa's work….
"….It is with great pleasure that I would like to announce the participation of Irina Ivanova in my forth-coming textbook entitled: Fashion Undressed for Prentice Hall/Pearson Publishing…."
This collaboration was born from the mutual respect for one another's areas of expertise and interest in regards to fashion. After several preliminary discussions on the topics of fashion and on the evolution of rendering styles of fashion, it soon became obvious to Kathleen that Irina had significant contributions she wanted to showcase in her new textbook.
The result of this body of work for the text, FASHION UNDRESSED , will be previewed in the upcoming art exhibit showcasing the talents of Irina. The show entitled "EAST MEEETS WEST" fine art of fashion Illustration" is to be held at the Mark Wheeler Art Gallery at the Art Institute of Fort Lauderdale, beginning July 15 2004 and running through August 11 2004 . Collaborating with peers and industry experts has always been the natural choice for Kathleen's writings. Kathleen believes that to best serve her reader, first hand interviews, testimonials and examples are the most obvious solution to engage her audience. In her 20+ years of teaching to a multicultural student population it has become apparent that the more visually concise, stimulating the information was, the easier the assimilation of complex subject matter would be to the student/reader, and working with Irina appears to be a match made in heaven for this new project slated for publication in 2005!
This collaborative project began initially with approaching Irina to be involved as a fashion illustrator for key areas of the text. However, after much thought and discussion, it was not long before Kathleen recognized that conveying the illustrating style from 1860 throughout the later part of the 20th century could clearly be delineated into several key styles. These styles of rendering fashion have always been epitomized by the leading illustrators from each period of costume history as evidenced in such noteworthy examples as the "Gibson Girl" from the late 19th century onto the distinctive ART DECO styles. The request was then made for Irina's illustrations to capture the essence of each of these époques of the last 100 years
You can see more of Irina's work at www.artdesignplus.com